Maison & Objet Trend Report Pt3 – Materials
Welcome to part 3 of our interior design trend report from the Maison & Objet Design Show. In this blog bite, we are focusing on the materials that dominated this year's show.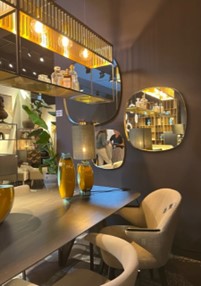 If we had to accurately describe the trending most popular materials in one word, it would be eclectic!
As mentioned in a previous blog within this series, it was the imaginative and sometimes unexpected juxtaposition in the use of the material combinations that offered such incredible depth and interest in the decors. We soaked it all in, in order to give you a peek behind the curtain!
Although nature's organic elements and materials emerged as a trend front runner, she was also glammed up with touches of gold, crystal and Lucite.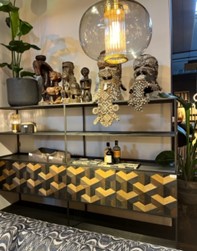 Wood showed up strong this year but never overbearingly so, due to the interesting uses shown.
The trend of reeded wood continues to gain steam, showing up on everything from entire walls, down to storage side tables.
Inlaid wooden patterns dressed up console doors.
Screens and tables comprised of woven wood added gorgeous texture.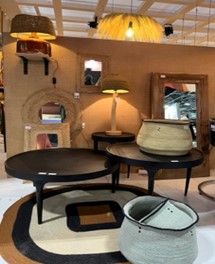 Rattans, linens and washed velvets played leading roles this year as well! The mix of almost primitive finishes alongside silky velvets made for exciting eye candy, second only to the diverse use of pattern and texture.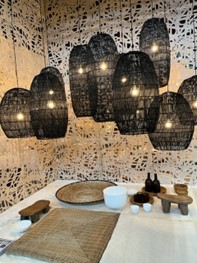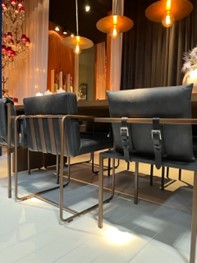 Leather and metal remained a cornerstone at Maison and Object, often used together within the same furniture piece.
We love the supple texture of the leather, contrasted by the industrial vibe of the metal in the chairs pictured below. This is the ultimate combination for a high impact "oooo-la-la" that we love.
Join us for the 4th and final part of our Maison & Objet Design Show series where we will report on the most current furniture silhouettes!
And check out Parts 1 and 2 of our Maison and Object report by scrolling back in our blog, or, follow these links:
Part 1 Maison & Objet Design Tends